With Wimbledon underway, things are really hotting up on the courts. With some of the tennis world's biggest players out of action, such as Maria Sharapova who is battling injury, and Serena Williams who is expecting her first child, there are a few winning slots available for those with the gusto to take it right to the top. For those that like to put their money where their mouth is, this year's event looks set to be great for the bookies and punters- look to SBAT betting tips for a roundup of the best! 
 When it comes to the women- British Number 1, Johanna Konta has been suffering from an injury sustained to her spine when she fell on it last Friday. It is hoped that her team of physios will get her form up to scratch when it comes to battling it out for the top spot. Murray has also been desperately trying to recover from a painful hip injury which have seen him withdraw from two warm-up matches over the last 10 days. 
The Men  
Some pundits are pencilling in Roger Federer as a top tip to win, which would see him win eight Wimbledon tournaments over the span of his incredible career. Lat week his odds were slashed from 21/1 to 9/4 putting him as one of the favourites to scoop the top prize. But Federer should not get too complacent as he has Rafael Nadal snapping at his heels as second favourite. Following his success at the French Open, he is looking to continue his winning streak on centre court this year. With his chances of winning pitted at 4/1 he is going to be going all out to be in with a chance to win. 
Other favourites include Novak Djokovic 6/1, Milos Raonic 18/1, and Marin Cilic and 18/1. 
The Women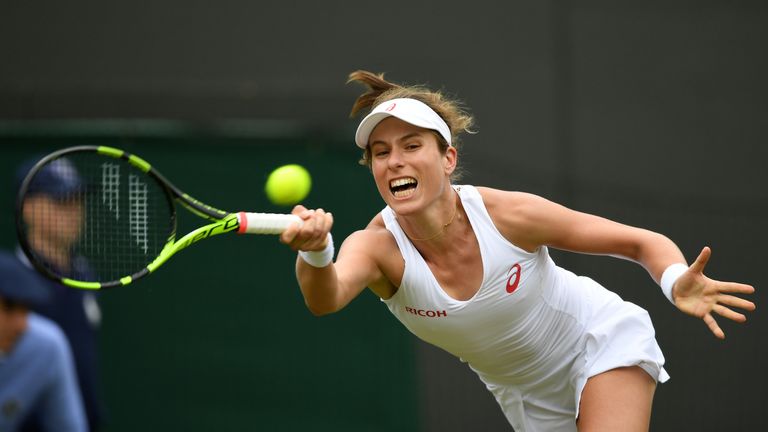 When it comes to the ladies, with Serena out there is a lot of interest around who will make it to the top of this year's ladies singles. The pundits favourite is the British No. 1 Konta who may be suffering from a bruised spine, but is hoping to still reign victorious. Another name on the lips of the press is Simona Halep, the Romanian tennis ace who nearly won her first grand slam title at Roland Garros, losing out by a whisker to Jelena Ostapenko. Looking to the Eastern Europeans,  Elina Svitolina is looking promising and has made a steady climb to stardom over the last couple of years, but whether she has what it takes to take the Wimbledon trophy, remains to be seen. 
The wildcards in the women's section are Victoria Azarenka, Magdalena Rybarikova, and Jelena Ostapenko who are snapping at the ankles of the favourites. Venus Williams is still powering on at the age of 37 but many think that her days of glory are behind her, but you never know! 
Have a flutter  
It is certainly shaping up to be an amazing tournament with lots of big names competing for glory. While it is almost impossible to predict at this stage, we recommend taking the afternoon off work, pouring yourself some Pimm's and sitting down to watch the starts of the tennis world battle it out. Why not place a bet on some matches as well, to be in with a chance of winning a little something yourself?